Slovak Jewish Heritage Database
The database is a publicly accessible online resource that presents the rich material culture of the Slovak Jewish community. It results from the in-depth research and documentation activities that we have been carrying over the course of many years.
You can use it to learn about synagogues and other built heritage, cemeteries, Judaica objects and archive materials from the collections of various institutions and private collectors. This is an ongoing project: we are continuing to research Slovakia's Jewish heritage, so the database will be expanded further in the coming years.
Slovak Jewish Heritage Route
Your gateway to exploring Slovakia's rich Jewish heritage! The route is a network linking and promoting the most important Jewish heritage sites in Slovakia. It integrates them into national and local cultural, educational and tourism contexts. Our cultural route includes precious synagogue buildings: some are active houses of worship, while others serve today as cultural venues.
Several historic Jewish cemeteries as well as two Jewish museums are also included. The route is a member of the European Routes of Jewish Heritage, which holds a "Cultural Route of the Council of Europe" certification, awarded in 2004.
Read More
The Slovak Jewish Heritage Route currently includes 26 sites, located in every region of Slovakia, from Bratislava to Bardejov. Our project is an innovative marketing initiative for cultural tourism that aims to present Slovakia's rich Jewish heritage to local and international audiences, to Jewish and non-Jewish people, to the religious and the secular, and to individual visitors and tourism professionals. Not all synagogues or Jewish heritage sites in Slovakia are part of the network: some have elected not to be part of the route, while others do not fulfil the formal criteria, such as providing access to visitors or engaging in active cooperation. Our project is strictly non-profit, and we are not a tourist agency or merely an online itinerary. Instead, we present a network of real people and organizations that maintain synagogues and other precious sites in order to preserve the fabric and memory of Slovakia's rich Jewish past for future generations.
There are 104 extant synagogues and Jewish prayer halls in Slovakia and our route includes a representative selection of various types, historical periods, styles, religious communities and current uses. The oldest buildings are two precious nine-bay synagogues from the early 19th century, in Stupava and in Bardejov. The latter is part of the unique compound of Jewish communal buildings that includes a beth midrash and mikvah (ritual bath), a monument of the town's UNESCO World Heritage site.
Some synagogues belonged to the Neolog community (e.g. the new synagogue in Žilina), some were Orthodox (e.g. the synagogue in Prešov), while there were also so-called Status Quo Ante communities (e.g. whose former synagogue in Trnava now houses the Jan Koniarek Gallery). There is also a former Orthodox synagogue in Trnava, in a painstakingly restored building that is today used as a café.
The Moorish style is represented by the splendid interior of the Orthodox synagogue in Prešov and the striking synagogue in Malacky, while the Status Quo Ante synagogue in Trnava is an excellent example of the neo-Romanesque style. The latter two synagogues were designed by Viennese synagogue architecture specialists, architects Wilhelm Stiassny (Malacky) and Jakob Gartner (Trnava). There are three extant Art Nouveau synagogue designs by the prolific architect Leopold (Lipót) Baumhorn of Budapest, in Nitra, Lučenec and Liptovský Mikuláš, where he redesigned an older neo-Classical synagogue after a devastating fire in 1906. The synagogues of Košice are witnesses to an important and prosperous Jewish community that was an integral part of the city's population prior to the Holocaust. Similar evidence of the Jewish community's key role in eastern Slovakia is the intimate shtiblach (prayer hall) of the Chevra Bikur Cholim in Bardejov, which has been preserved with its original interior, Torah scroll and Hebrew books. Several of these synagogues are still used as Jewish houses of worship by their communities – in Bratislava, Nové Zámky and Prešov. The synagogue in Šurany today houses the municipal museum and those in Šahy and Levice are used as art galleries and venues for cultural events. The synagogue in Šurany is a center for contemporary art, but given its proximity to Bratislava, is also used for Jewish family events and celebrations. The unique "Menház" compound in Komárno includes a neo-Gothic synagogue, which was the prayer hall of the former Jewish old age home, and today serves as a Jewish Community Center in this town on the Slovak-Hungarian border. The city of Trenčín will be a European Capital of Culture in 2026 and the local synagogue is currently undergoing restoration in order to serve as one of the venues for this prestigious cultural event.
The route includes four cemeteries. These are compounds of special significance in the Jewish tradition and we generally do not support the growth of tourism at such sites. Nevertheless, the cemeteries in Spišská Nová Ves, Sereď and Banská Štiavnica (a UNESCO World Heritage site) are special examples thanks to their integration into educational activities by local teachers and associations. We look forward to announcing more such successful initiatives to join our heritage route. Last but not least is the Chatam Sofer Memorial in Bratislava, an architecturally exceptional compound sheltering the remains of a Jewish cemetery destroyed in 1943-1944, where the famous rabbi Chatam Sofer and other prominent Torah scholars are buried. The site is one of the most important places of Jewish pilgrimage in Europe.
Jewish museums and Judaica exhibitions
Slovakia has many interesting museums that focus on Jewish heritage. There are two Jewish museums in Bratislava. The Jewish Community Museum, established in 2012, has its permanent exhibition in the women's gallery of the Heydukova Street Synagogue, the only active, surviving synagogue in Bratislava. The other museum, the Museum of Jewish Culture, is a branch of the Slovak National Museum that opened in 1993 and is located in the former Jewish neighborhood of Bratislava. The museum also maintains a permanent exhibition in the Orthodox synagogue in Prešov. The collection belongs today to the local Jewish community and was assembled by the interwar Jewish Museum Association, which established Slovakia's first Jewish Museum in Prešov in 1928. Aside from these, there are small Judaica exhibitions in Žilina, Košice and Komárno, and another is currently being prepared for the synagogue in Trenčín.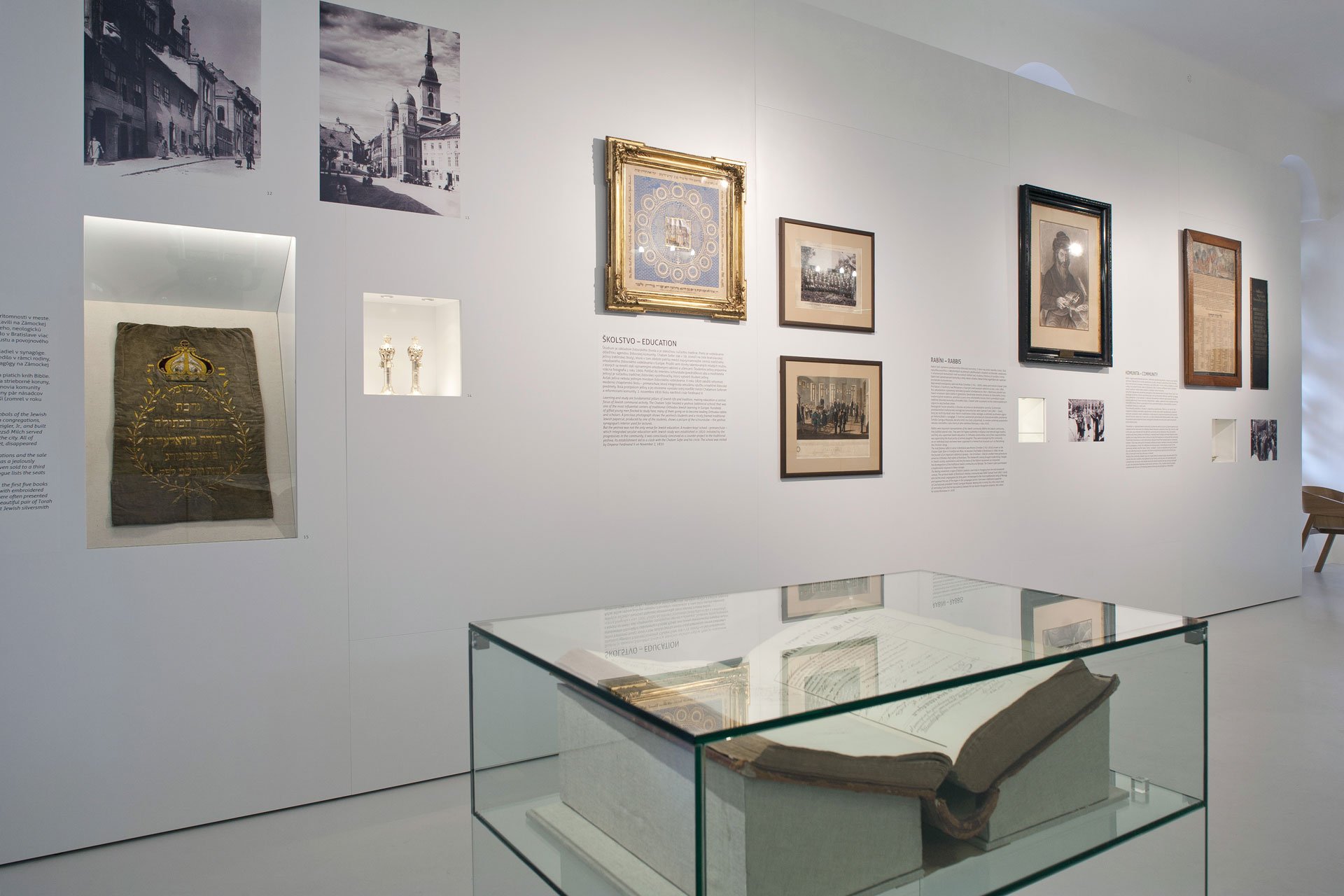 Eugen Bárkány (1885-1967) was a building engineer and successful entrepreneur based in Prešov. A passionate collector, in 1928 he became the founding chairman of the first Jewish Museum in Slovakia, established in his native town. Thanks to his zeal, the museum association amassed an astonishing collection of Judaica from local Jewish communities. During World War II, Bárkány was chairman of the Neolog Jewish community, until being forced to assume a false identity in Budapest in 1942. In 1945, Bárkány and his wife returned to Prešov, from where they were expelled in 1951. The museum's Judaica collection was deposited at the State Jewish Museum in Prague in 1952-1993. The Bárkánys settled in Bratislava 1955, where Eugen continued working for the Federation of Jewish Communities in Slovakia and for the State Jewish Museum of Prague and monuments boards documenting Jewish heritage in Slovakia. During his Bratislava years, Bárkány assembled another Judaica collection, which he stored in the former Neolog synagogue of Bratislava, where he and the Jewish community hoped to establish a new Jewish Museum. This vision was fulfilled only in 2012, more than 40 years after Bárkány's death, when the Jewish Community Museum was established.